2017-Summer-Mountain-Edition
Extension Gardener Newsletter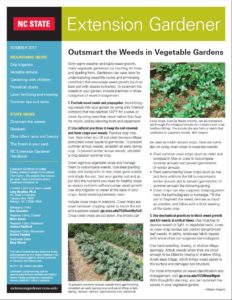 Click here to download a pdf version of the newsletter.
Please share feedback to help us improve Extension Gardener by taking this short survey.
A peek at what's inside this edition  . . .
MOUNTAiN NEWS
Drip irrigation
Versatile lettuce
Gardening with children
Periodical cicada
Lawn fertilizing and mowing
Summer tips and tasks
STATE NEWS
Outsmart the weeds
Ninebark
Okra offers taste and beauty
The forest in your yard
NC Extension Gardener Handbook
Was the information on this page helpful?