Botany for Gardeners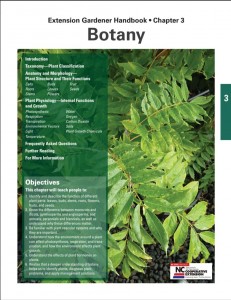 Botany includes four key areas:
Taxonomy—Plant description, classification, naming and grouping
Anatomy and morphology—Plant structures
Physiology—Plant internal functions and growth (photosynthesis, transpiration, respiration)
Ecology—How plants interact with their environment and each other
Botany for gardeners gives you a brief introduction to plant parts and systems and explains how to use that information to identify plants, select plants that will thrive in specific sites, and diagnose and manage plant problems.
Learn to identify and describe plant parts, including leaves, buds, stems, roots, flowers, fruits, and seeds and understand their various functions.
Recognize the various way plants are grouped including monocots and dicots, gymnosperms and angiosperms, and annuals, perennials and biennials,and how understanding these differences aids you in selecting plants that will thrive in your garden.
Become familiar with plant vascular systems and why they are important.
Understand how the environment can affect photosynthesis, respiration, transpiration, and plant growth.
Learn how plant hormones affect plants.
Was the information on this page helpful?