Wildflowers of the Atlantic Southeast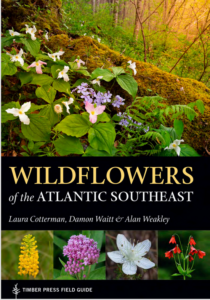 This beautiful new book is a functional tool to help you identify wildflowers. Organized by flower color you can fan quickly through 1,250 species, or you can use the simple, straight forward key at the front of the book to identify a plant. Written by Laura Cotterman, botanist and editor, Damon Waitt, Director of the NC Botanical Garden and Alan Weakley, Director of the UNC -Chapel Hill Herbarium, the book includes more that 1,300 color images and 1,200 range maps. The fascinating section on Climate, Geography and Natural Communities has rich descriptions and illustrative images. Inside the front and back covers are drawings of botanical terms to describe leaves, flowers and fruits providing everything you need to identify wildflowers including a ruler in inches and centimeters.
The book is available through the Botanical Garden Gift Store as well as local and online bookstores.