Extension Showcase: 4-H Mini Gardens

The Master Gardener℠ volunteers of Rutherford County teamed up with our 4-H Youth Development to offer the Mini Garden program to 11 students this year.
Master Gardener℠ Volunteer Ramona Howell and Isothermal Community College Instructor Angela Snyder taught participants how to plant and weed their gardens and how to scout for pests and diseases. Students were scored on their garden's progress throughout the summer, and they submitted project books that shared stories about what they learned and the financial impact that their garden harvests had on their families' summer food budgets. Some students even sold produce at stands in their neighborhoods!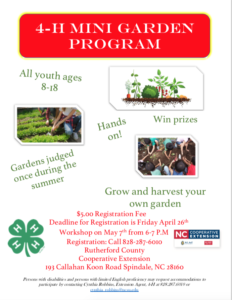 The program was intended to encourage children to grow their own gardens, to understand all of the inputs and tasks involved in gardening, as well as to cook at home with their produce. Nine out of the 11 students who participated tried a new vegetable and helped prepare or cook that vegetable for a meal. The crowd favorites were the 'Black Cherry' tomatoes and the 'Zephyr' squash, which many families had never grown before but would grow again in the future.
—Hannah Bundy

More interesting articles are available in the latest copy of the
Extension Gardener Newsletter