I am So Glad I Love to Garden!
Find this article at:
go.ncsu.edu/readext?665280
I woke up this morning with such gratitude. I am a gardener. I am happy at home puttering in the yard, or curled up reading about gardening. I am growing food for me, my family and my neighbors and surrounding us in beauty. I feel empowered rather than helpless, I have plenty to share rather than being concerned about hoarding, I have reason to get up and go outside and enjoy the sunshine. I wish for you the many gifts of gardening.
Whether you are just getting started or experienced, the following resources may be helpful.
NC State Extension Gardener Handbook: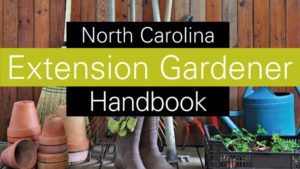 The Extension Gardener Handbook is a fundamental reference for any seasoned gardener, but it is written so clearly, it also appeals to beginners just getting their hands dirty. It explains the "why and how" basics for every gardening subject from soils and composting to vegetable gardening and wildlife management. Advice on garden design, preparation, and maintenance covers all types of plantings including lawns, ornamentals, fruits, trees, and containers. Kathleen Moore and  Lucy Bradley, Urban Horticulture, NC State University
NC State Extension Plant Tool Box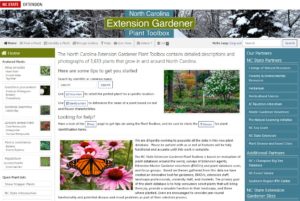 The North Carolina Extension Gardener Plant Toolbox contains detailed descriptions and photographs of 3,924 plants that grow in and around North Carolina. The toolbox is searchable by cultural conditions, landscape use, plant traits, flower and leaf characteristics. Under cultural conditions, consider checking the USDA Hardiness zone as your first choice. Selecting the hardiness zone allows you to review plants that grow where you live.
Vegetable Gardening Planting Calendars:
April and May are a great time to get started in vegetable gardening. From a container with tomatoes to raised beds and in-ground vegetables, know when to plant is important. The Central North Carolina Vegetable Gardening Guide is the resource to determine what to plant, when to plant and whether to plant seeds or transplants.
Home Grown Videos from NC State Extension: 
From growing your own produce to composting your kitchen scraps, we'll take you through the finer points of putting your green thumb to good use. And whether you've got a whole backyard ready to be planted or a couple houseplants on your windowsill, we're here to help. Go ahead, get your hands dirty.
General Gardening:
NC State Extension has many resources for you. See these links for more information:
Have a specific question? Want to talk to a Horticulture Agent? 
Contact the Horticulture Agent in your North Carolina State Extension office. We are glad to help!
Here's a complete listing of Extension offices in North Carolina.