Greatly Expanded Content and Images on Weeds of North Carolina!
Find this article at:
go.ncsu.edu/readext?706432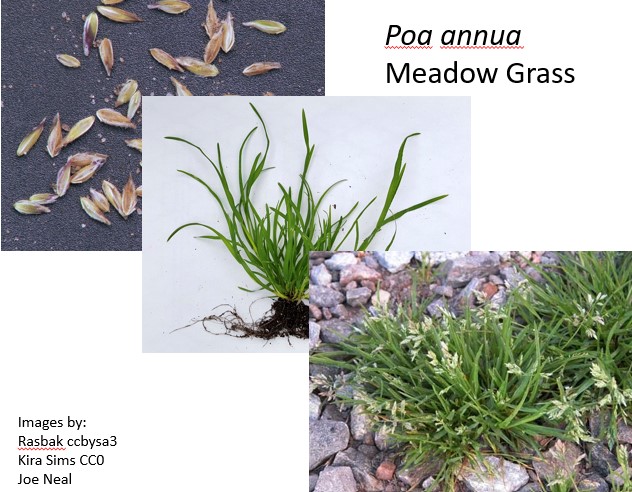 Many thanks to project coordinator Kira Chaloupka, student photographer Calla Veazie, Extension Specialist Joe Neal, Extension Agents Ashley Troth, Matt Jones, & Sam Marshall, Extension Master Gardener volunteers in Durham, Chatham and Haywood Counties as well as those serving on the Plant Toolbox team. They have done a tremendous amount of work identifying, photographing, and documenting weeds for the Extension Gardener Toolbox. Check out all the information and images that has been added on these 65 common weeds.
Annual bluegrass, Annual Ryegrass, Asiatic hawksbeard, Bittercress, Carolina Geranium, Chickweed, Common Groundsel, Henbit, Horseweed, Lawn Burweed, Shepherd's purse, Sowthistle, Speedwell, Vetch
Black medic, Carpetweed, Chamber Bitter, Cocklebur, Crabgrass, Foxtail, Garden Spurge, Goosegrass, Japanese stiltgrass, Prostrate Knotweed, Lambs quarter, Lespedeza, Mulberry weed, Pigweed, Purselane, Ragweed, Sida, Spotted Spurge, Virginia Copperleaf, Wild carrot
Aster, Frost, Bamboo, Bermudagrass, Clover, white, Common Wood sorrel, Curly dock, Dallas grass, Dandelions, Dogfennel, Dollarweed, English ivy, Florida betony, Garlic/Onion – wild, Ground ivy, Hedge bindweed, Japanese Honeysuckle, Johnsongrass, Mugwort, Nimblewill, Nutsedge, yellow, Nutsedge, purple, Orchard grass, Plantain, Poison ivy, Pokeweed, Smilax, Smilax, Smilax, Virginia buttonweed, Wild violet, Wisteria