2018 Winter Piedmont Edition
Extension Gardener Newsletter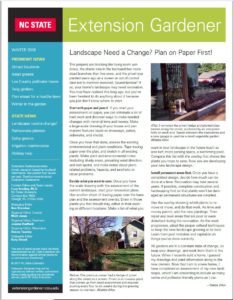 Click here to download a pdf version of the newsletter.
A peek at what's inside this edition  . . .
PIEDMONT NEWS
Attract bluebirds
Asian greens
Lee County pollinator haven
Twig girdlers
Plan ahead for a healthy lawn
Winter in the garden
STATE NEWS
Landscape need a change?
Rattlesnake plantain
Spicy greens
Irrigation maintenance
Holiday help
Was the information on this page helpful?